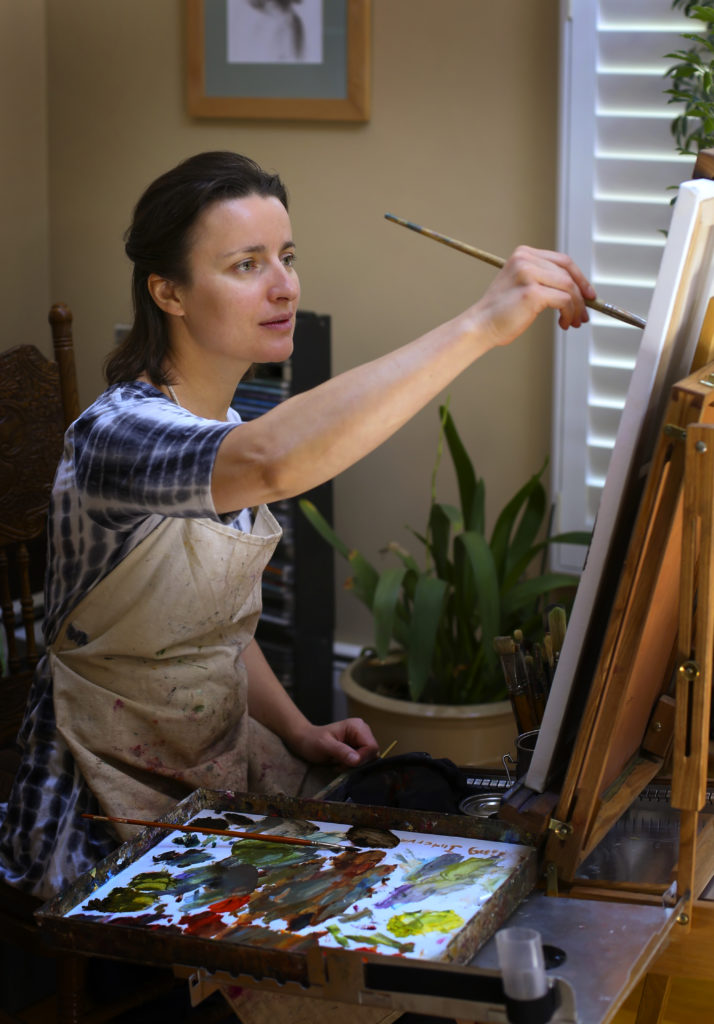 I am a representational artist based in Boston area, Massachusetts. Coming from Russia 20 years ago, I had a chance to travel, live and work in many places. Traveling greatly informed my artistic style, which can be described as an expressive narrative experimentalism.
I am fascinated with continuous transformative forces that affect us and our environment, be it a linear trajectory of a growing tree, the rhythm of an urban scape or the unfolding of a human being. The existential transition between being and becoming, what we are, where we come from and where we are headed are central to my art.
In my artistic quest I constantly shift technical boundaries to arrive at a dynamic, emotive composition. I use imagery, strong action lines, bold chromatic changes, sharp and blurred edges to accomplish a certain atmosphere, rather than to illustrate an explicit story. The pictorial elements serve as triggers, helping a viewer perceive the atmosphere and respond to it emotionally and intellectually. Although the works are personal and intimate, they are universal in a sense that they have emotive resonance and open to viewers` interpretations.
Besides art practice, I run VizArt School in Northborough, MA www.vizartschool.com – a creative place that offers fine art classes and services to all interested.
Curriculum Vitae
EDUCATION and TRAINING
DATE
DEGREE (degree earned)
INSTITUTION AND LOCATION
12/2003
Master of Fine Arts
Florida State University,
Tallahassee, FL, USA
06/2001
Bachelor of Arts
Penza State Pedagogical University, Penza, Russia
PROFESSIONAL POSITIONS and ACTIVITIES
| DATES | POSITION | PLACE AND LOCATION |
| --- | --- | --- |
| 2019-present | Director/Artist | VizArt School, Northborough, MA |
| 2014-2019 | Director/Artist | Attic Art Studio, Shrewsbury, MA |
| 2011-2015 | Art Instructor | Worcester Art Museum, Worcester, MA. Courses taught: Artistic Anatomy, Painting I and II, Figure Painting, Portrait Drawing, Portrait Painting, Perspective, Fundamental Drawing, Anatomy workshops. |
| 2013 , 2014 | Lecturer | University of California, Santa Cruz. CA Courses taught: Figure Drawing, Artistic Anatomy, Special Topics in Painting. |
| 2012 | Art Judge | 8th Annual Grafton Arts Festival, Grafton, MA |
| 2007-2009 | Mural Artist | Department of Parks and Recreation, Santa Cruz, CA |
| 2003-2004 | Studio Art Adjunct Professor | School of Visual Arts and Dance, Florida State University, Tallahassee, FL Courses taught: Painting I, Painting II, Two-Dimensional Design. |
| 2002-2003 | Teaching Assistant | School of Visual Arts and Dance, Florida State University, Tallahassee, FL Courses taught: Painting I. |
HONORS and AWARDS
2020 Architectural Art Award, Preservation Worcester, Worcester, MA. Jurors: Jim Welu, Director Emeritus Worcester Art Museum, Birgit Straehle (Worcester Art Museum, Sprinkler Factory Gallery Co-Director)
2018 Finalist Award in Still Life Category, Portrait Society of America 14th Annual Competition
2018 Finalist Award in Oil Category, National Oil and Acrylic Society
2018 Drawing Award, Connecticut Academy of Fine Arts 107 Annual Exhibition, Mystic Museum of Art, Mystic, CT. Jurors: Eric Aho, Robert Reynolds, Francine Weiss
2018 Honorable Mention, Focus on Figure, North River Art Society, Marshfield, MA. Juror: Robert Liberace
2014 Curator`s Choice Award, Model Behavior Exhibition, Aurora Gallery, Worcester, MA
2014 First Prize (Drawing Category), Grafton Art Festival, MA
2014 Third Prize (Painting Category), Grafton Art Festival, MA
2013 Arts Worcester, Art Material Grant, Worcester, MA
2010 Merit Award, Plein Air Affaire 2010, Museum of Art and History, Santa Cruz, CA
2010 Juror's Choice Award, Plein Air Affaire 2010, Museum of Art and History, Santa Cruz, CA
2009 First Prize Award, 79th Annual Statewide Landscape Exhibition "Irreplaceable Places", Santa Cruz Art League, Santa Cruz, CA
2008 Human Race Poster Design Award, Volunteer Center at Santa Cruz, Santa Cruz, CA
2004 Fourth Prize Award, National Exhibition at Valdosta State University, Valdosta, GA
2003 Second Cash Prize, Oglesby Gallery Rolling Juried Show at Florida State University, Tallahassee, FL
2002 Best of Show Award, Creative Tallahassee Art Exhibition, Tallahassee, FL
SELECTED EXHIBITIONS
Architectural Art Show, Preservation Worcester, Worcester, MA 09-11/2020 (group show)
Winter Works, Attleboro Museum of Art, Attleboro, MA 01- 02/2019 (group show)
Oil Painters of America Eastern Regional Exhibition, McBride Gallery, Annapolis, Maryland 11/2018 – 01/2019 (group show)
Connecticut Academy of Fine Arts,107 Annual National Show, Mystic Museum of Art, Mystic, CT 04/2018 – 06/2018 (group show)
"America Now", Providence Art Club, Providence, RI 04/2018 – 07/2018
"Focus on Figure 2018", North River Arts Society, Marshfield, MA 03/2018 – 04/2018 (group show)
"Floral" Attleboro Art Museum, Attleboro, MA 03/2018 – 03/2018 (group show)
"Red" Jackson Junge Gallery, Chicago, IL 03/2018 – 04/2018 (group show)
West Boylston Painters Figurative Art Show, Assumption College, MA 02/2018 – 04/2018 (group show)
Works on Paper, Dacia Gallery, New York, NY 12/2017 – 01/2018 (group show)
"Wet", Gallery Seven, Maynard, MA 02/2017-03/2017 (group invitational show)
"The Absence of Color-III", Gallery Seven, Maynard, MA 06/2016-07/2016 (group invitational show)
"Terra Firma", Aurora Gallery, Worcester, MA 04/2016-05/2016 (group show)
"Self-ish", University Place Gallery, Cambridge, MA 04/2016-05/2016 (group show)
"Now", Aurora Gallery, Worcester, MA 03/2016-04/2016 (group show)
"Winter Works", Bromfield Gallery, Boston, MA 12/2015-01/2016 (group show)
"Grayscale", Aurora Gallery, Worcester, MA 12/2015-01/2016 (group show)
"Blue", Cambridge Art Association, Cambridge, MA 11/2015 – 12/2015 (group show)
Faculty Art Exhibition, Worcester Art Museum, Worcester, MA 10/2015– 02/2016 (group show)
"War and Peace", Sprinkler Factory Gallery, Worcester, MA 10/2015 – 11/2015 (group show)
"Present Perfect Continuous", Briarwood Gallery, Worcester, MA 09/2015 – 11/2015 (solo show)
"Model Behavior", Fitchburg Art Museum, Fitchburg, MA 06/20015 – 08/2015 (group show)
Valdosta National 2015, Valdosta State University, Fine Arts Gallery, Valdosta, GA 01/2015 – 02/2015 (group show)
"Model Behavior", Aurora Gallery, Worcester, MA 12/2014-01/2015 (group show)
Material Needs Grant Awardees Exhibition, Aurora Gallery, Worcester, MA 09/2014-11/2014 (group show)
Faculty Exhibition, Worcester Art Museum, Worcester, MA 09/2013– 10/2013 (group show)
ARTS Worcester's Biennial 2013, Aurora Gallery, Worcester, MA 04/2013-05/2013 (group show)
"Steps", Hanover Theater, Worcester, MA 10/2012-03/2013 (solo show)
"In Context: Art Here and Now", Worcester Art Museum, Worcester, MA 06/2011 – 08/2011 (group show)
ARTS Worcester's Biennial 2011, Aurora Gallery, Worcester, MA 03/2011-04/2011 (group show)
Plein Air Affaire 2010, Museum of Art and History, Santa Cruz, CA 07/2010 (group show)
80th Annual Statewide Landscape Exhibition "Nature`s Treasures", Santa Cruz Art League, Santa Cruz, CA 06/2010 (group show)
79th Annual Statewide Landscape Exhibition "Irreplaceable Places", Santa Cruz Art League, Santa Cruz, CA 06/2009 (group show)
Recent Plein Air Paintings, Santa Cruz City Hall, Santa Cruz, CA 07/2008- 08/2008 (solo show)
California Paintings, Many Hands Gallery, Capitola, CA 02/2006 – 03/2006
Peace Art Award Auction, Museum of Art and History, Santa Cruz, CA 10/2005 – 10/2005
2005 Open Studios Art Tour, Santa Cruz, CA 10/2005- 10/2005
"Summer in Winter" International Juried Exhibition, Mt. Scott Art Center, Portland, OR 12/2004 – 2/2005 (group show)
The 10th Annual Art Exhibition and Auction, The 621 Gallery, Tallahassee, FL 11/2004 (group show)
"Wildlife Refugees" Plein Air Exhibition, Nan Boyton Memorial Gallery, Tallahassee, FL 9/2004 (group show)
2004 International Biennial Juried Exhibition, Brad Cooper Gallery, Tampa, FL 07/2004-09/2004 (group show)
Florida State University Faculty Exhibition, Florida State University Museum, Tallahassee, FL 01/2004-02/2004 (group show)
Valdosta National Exhibition, Valdosta State University, Fine Arts Gallery, Valdosta, GA 01/2004-02/2004 (group show)
Irina Parfenova and Josh Hobson Art Exhibition, City Hall Art Gallery, Tallahassee FL 08/2003-09/2003 (two person show)
"Paintings from Life" Figurative Art Exhibition, Florida State University Museum, Tallahassee, FL 07/2003-09/2003 (group show)
"Alter Ego" Exhibition, Oglesby Union Gallery, Florida State University, Tallahassee, FL 04/2003-05/2003 (solo show)
Rose Printing Award Exhibition, Rose Printing Company, Tallahassee, FL 05/2002-09/2002 (solo exhibition)
Creative Tallahassee Exhibition at City Hall, Tallahassee, FL 04/2002 (group show)
PUBLICATIONS and INTERVIEWS
Architectural Art Award notecard sets, Preservation Worcester, Worcester, MA 2020
Connecticut Academy of Fine Arts 107th Annual Exhibition, Mystic Museum of Art, MA 2018
Plein Air Catalog, Museum of Art and History, Santa Cruz, CA 2010
Interview by Kirby Scudder, KUSP Radio, California "Art Studio: Irina Parfenova", CA 2007
"2004 Biennial", Brad Cooper Gallery Exhibition Catalogue, Tampa, FL 2004
Valdosta National Exhibition Catalogue, Valdosta, GA 2004
Florida State University MFA Graduation Catalogue, Tallahassee, FL 2003
"Southern Style" The Valdosta Daily Times, p.10A, Valdosta, GA 2002
Rose Printing Inc. Co Catalogue Reproduction of Current works, Tallahassee, FL 2002
Rose Printing Inc. Co Poster Reproduction of Painting "Surreal Identity", Tallahassee, FL 2002